Good morning my friends,
What a weekend we had, we spent 80% of it in Tattoo shops.
But first I have this layout to share....
I don't have girls but I have the most amazing friends with
little girls, and it has become the light of my life for sure!
(of course my boys are amazing but I have light enough for 20 more LOL)
Anyways created this layout last week with some snapped iPhone photos
from the ball field last week, how funny if this kid????
I am peeing my pants watching her, she is such a sweet hoot~
So this weekend hubby set out to get a tattoo, we made an appointment
at Absolute Ink in Murfreesboro with Jay. He drew up the tattoo, we
showed for the appointment, then waited 1.5 hours, then Jay decided
he would not tattoo hubby because he didn't think hubs was "ready" and he
wasn't "feeling" him -so he said no and started playing with his phone.
Yea that was super cool and professional *ugh*, I knew tattoo
artist were known to be flaky but this was so heartbreaking after
saving our money for a year and having it all ready and making
our appointments....the guy acted like we weren't worth his time.
anyways...
since hubby has waited 36 years for this tattoo we decided to find
a more professional shop and head to Nashville.
I am so happy we did, Blackbird Tattoo & Gallery had the nicest people
who were completely professional and Ed drew up hubby's tattoo,
then we came back Sunday to get the actual tattoo done.
I went to teach my card class and met up with hubby later.
It was a great experience and Ed was just amazing.
This was the end result, a pink haired girl with her head severed
and a skull holding it up. It was a celebration of our 10 years together
but in hubby's twisted horror way LOL
The colors will be brighter as it heals, he did a great job,
I am so excited we found this shop.
So that was our tattoo adventure that lasted from Saturday until
Sunday night, I was happy to get home!!!
Hope today makes you smile like sweet Payton made me smile.
Happy Monday~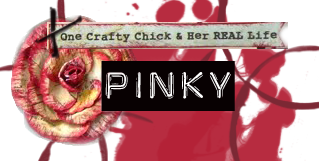 Products Used:
Samantha Walker Digital Files from Jessica Sprague website