Good morning,
Happy Saturday!
I had a fun day with my gf Adrienne yesterday, we had
lunch and chilled in the pool. Actually we laughed in the pool
because all year we had these great blow up chairs...
BUT the boys kept popping them repeatedly, sooooo hubby decided
to get me a "special" more expensive chair and he bought 2 one for me and one
for Adrienne....but the problem is...we could NOT stay on them LOL
It was a falling into the pool fest, and you know I hate getting my hair wet!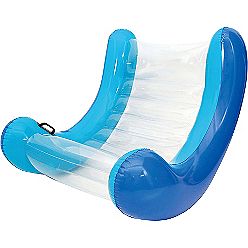 So...these chair SUCK LOL Neither A or I are coordinated enough
to stay afloat on them and I need to go find my cheap floaty
chair and hide them from the kids! LOL
anyways....on to fun mail time....
I will be the first to admit when I see a survey, I usually just
drone through it and don't give it a second thought...
MONTHS ago...maybe even a year ago I took a survey
and look what happened?? LOL
To be honest I don't even remember doing it but it was
a fun surprise in the mail yesterday!
I know many Fiskateers get these but it was fun to get one of my own.
Happy Saturday everyone! Thanks for popping by and sharing a slice
of my life...I love ya~