Good morning my crafty friends!
I know I Know, I almost forgot the stamp winner, but if you read all
the way down, I have a WINNER! :)
I am so excited because today Imaginisce partnered up with Clear Scraps
two of my MOST favorite companies...and they work brilliantly together!
Here is the Clear Scraps mini album I made
using the Imaginisce Birthday Bash line.
This is the back cover....
these are the middle pages....I love birthday bash!
Oh and I used my COPIC markers around the edges!
Now to find little tiny 2X2 pictures. hehehe
Oh and the i-rock crystals I used on the back...
I used my Copics to make them red!
Now go check out the Imaginisce Blog for some prizes! :)
Also don't forget to enter last week's GIVEAWAY on Clear Scraps
and check out the amazing ideas and tutorials over there!
Ok now for the STAMP winner....
*I apologize it's been a crazy week*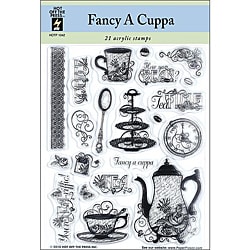 Kelly Sas
said...
Thanks for ALWAYS thinking AND spoiling us fans! This is an amazing stamp set - I would like to know what company makes this set? Have a wonderful Easter holiday with your men Pinky.... oh, and the chickens!! LOL
Friday, April 22, 2011
Kelly please email or Facebook me your address, I know
you have been a great fan for a long time! I was happy to
see your name pop up! :)
Oh and quick update on the family....
my son did not break his hand....it was fine but he needs to let it heal!
YEA! No broken bones!! He is 15 and we have made it 15 years LOL
I am probably jinxing myself.
OK let's hope no more tornadoes hit up our town. LOL
Schools were closed yesterday and it was a crazy day!
I am ready for the weekend!