Good morning fellow bloggers and crafters!
Does anyone have a candy hangover this morning?
I woke up to my son very loudly letting me know it was NOVEMBER FIRST!
and I need to change the calendar! hehehe
I have some good news, I have been meaning to share
but with all the packing, moving and Halloween, I sort of lost it!
My friend from Alabama...Kelly, started a new challenge blog called
Scrap Fit
The challenges are called Workouts
It is fun!
You have to check it out, I am on the Design Team now!
I made this Layout using the November Kit from Treasured
For one of the challenges:
Here is a sketch that I made to match it!
Here is one more Layout I made with the November Kit
from Treasured Scrapbooking, for my DT work!
I love Fall and Fall Layouts.
I took some FUN shots last night after the kids were all dresses up and
makeup was applied!
This is my favorite shot of the night....
you know every time I TRY to get that perfect little boy shot
but these boys NEVER stand innocent and to be perfectly honest,
I would not have it any other way! I LOVE these pictures!
I don't care if I am 80 and they are grown, this is still going to crack me up!
I know I am nowhere near a professional but I am really pleased with my
pictures lately. I think I am getting clear and pleasing shots.
Not they are not pro I know, but to this amateur, they make me happy!
This is my and hubster....we were the PUPPY parents hehe
Hubby really wanted LONG pink ears, I had cut black ones but
he insisted on LONG pink ears to support his PINK wife...
AWWWW!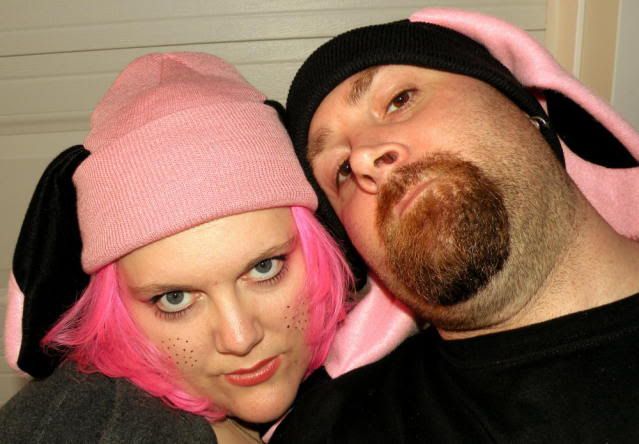 We had a great night overall!
So happy November 1st my friends!~
Thank YOU ALL for stopping by!
~Have a great Sunday~
~Pinky~