It will only be about an hour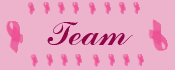 VS
That's right it's time for a rumble and crumble (paper that is) in Treasured Scrapbooking!~
TEAM LAURAJEAN

vs

TEAM PINKY!!!!!!
So sign up here for Saturday March 28th @ 1:30 PM Eastern Time
12:30 Central 10:30 Pacific
we will split you all into teams!
It will be a race to scrap that Just Add Scraps Sketch!
Each Team will have different Requirements!!
OHHH and BONUS there will be prizes!!!!!!!!!
NOT ONLY an APRIL KIT But also 2- 5.00 Gift Cards!!!!!!
Everyone who participates has a chance!
Get to signing up!!!!!!!
Clear your calendar!
(Just Add Scraps, means a LO using your scraps,
so it is always good to have some coordinating scraps ready)
We thought it would be fun, I am super excited!!!!!!!
~Have a beautiful day~
~Pinky~
Oh!! OH!! and Thank you Jocelyn
for this blog award!!