You will have to bear with me, probably only going to

be able to blog 3-4 times a week until I get moved!
Our house has been a mad house of
real estate agents, house showings and loan info!
TODAY is reveal day in Treasured!!
This is my 15th reveal...with
September kit #2!
LOVE it!!
If you did not hear about it...I ran into a naked man lastnight!
The story is on my facebook
facebook/pinkyhobbs
Fiskateers, Treasured Scrapbooking and Tally LOL
Also....TALLY SURVIVOR is up...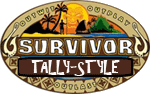 ANNDDDD Tally Scrapper is having a DT CALL!!!!!!!!!
Here is an opportunity to work with some of the most fun and creative people online!
Tally
Scrapper is under new ownership and we want YOU to apply for the DT positions.
We are looking for 4 creative excited DT members to work on our team.
Members choose the DT!!! So everyone has a great chance!
Requirements:
Call begins
September 15
and ends on the 30th at Midnight.
Submit 2 LAYOUTS and 1 CARD to the assigned gallery MUST be NEW for DT call and not be posted anywhere else until call is over.
You must be able to commit to 3 months
You will be required to meet a minimum layout and card commitment with kit
Minimum blog posting and submissions with your kit.
Must be willing to submit for publication and promote TALLY SCRAPPER!!
Benefits:
You will receive 1 Layout kit FREE 1 Card Kit Free in your 3 month term, with the option to buy the others kits for 40% off.
Your name will be published on the site and the blog
And Tally will do what they can to promote you!
If you have any questions please email DT Coordinator -Pinky (Cristal ) Hobbs @ andrewcristalhobbs@yahoo.com
OK I have filled you all in...
I have a special ANNOUNCEMENT coming soon!
I am very excited about a new opportunity to work with a great cause!
~Have a blessed day~
~Thank you to all who stop by and give me inspiration every day~!
~Pinky~